UTSA Study: West Texas Shale Oil Field Could be Biggest Yet
21-12-2013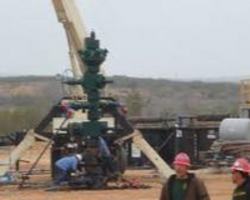 by Jim Forsyth
A study by the UTSA Institute for Economic Development concludes that the Cline Shale, a newly discovered tight oil formation in the Permian Basin of west Texas, has the potential to match and even exceed the Eagle Ford in terms of oil output, 1200 WOAI news reports.
Institute director Dr. Thomas Tunstall says it is already well on its way to doing just that
"There has always been some degree of oil and gas drilling out there, but their heyday was probably back in the forties," Tunstall said, adding that the exploitation of the Cline Shale has brought prosperity to communities that haven't seen it in decades.
He says even in the early stages of development, the Cline Shale is already responsible for 21,450 full time jobs, $1 billion in salaries and benefits paid to workers, and $472 million in state revenues, including $187 million in severance taxes.
Oil and gas revenues replenish the state's Rainy Day Fund, which continues to fill up despite voter approval of a $2 billion withdrawal to pay for water projects.
Tunstall points out that the Midland Odessa area currently has the lowest unemployment in the entire country, and says that growth is also due to Cline Shale growth.
"A lot of mid level energy folks coming in that has given that area a boost."
Tunstall says the Cline Shale is growing so rapidly that it is hard to pin down its potential for growth. But he says in 2014, Texas will have two separate shale oil formations, the Eagle Ford and the Cline, each producing one million barrels of oil per day. That means just two tight oil formations in Texas, not counting all of the other drilling activity, will be outputting more oil than four OPEC nations.
"The shales from one field and another will vary," he said, pointing out the early stages of what could be one of the largest shale oil deposits on earth. "They are still experimenting with different ways to get the oil out."
As with the Eagle Ford, Tunstall points out that a fall in world oil prices could kill the growth, because shale oil is far more expensive to recover than traditional oil plays, and if the world price of oil were to fall below $70 a barrel, producers would find continued shale production to be unprofitable.
But he says the future output of the Cline Shale could be as high as $34.3 billion, which would make it the largest producing oilfield in the nation, with greater output than the Bakken Shale in North Dakota or the Prudhoe Bay field in northern Alaska, which is now seeing declining production.