Environmentalists Lash Out at Obama Administration Over Fracking
28-12-2013

Environmentalists Lash Out at Obama Administration Over Fracking

By Cynthia Fagen

Environmental groups are accusing the White House of siding with the natural gas industry over its own Environmental Protection Agency's internal probe on potential groundwater contamination caused by hydraulic "fracking," the Washington Examiner reported Friday.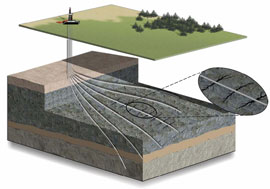 The EPA's inspector general report said the EPA was justified in issuing a 2010 emergency order to natural gas firm Range Resources after it found carcinogens in residential drinking water in Parker County, Texas. The EPA, however, withdrew the order after an agreement with the company.
But the report acknowledged that "issues remain," and the "overall risk faced by current and future area residents has not been determined."
Some environmental groups accused the EPA of turning its back on the "fracking" issue in order to serve the president's other policy goals, including development of natural gas resources through controversial hydraulic fracturing, a drilling method that involves injecting a cocktail of water, sand and chemicals into tight rock formations to access hard-to-reach hydrocarbons.
"I think [the EPA has] been bludgeoned with a sledgehammer. The EPA, by all indications, wanted to do their job," Sharon Wilson, a Texas-based activist with Earthworks, an environmental energy group, told the Examiner regarding the effect leaks of potent, heat-trapping methane from fracking have on global warming.
"It seems that [President Barack] Obama has been eager to support natural gas without having all the questions answered first," Wilson said.
Fracking is credited with fueling a domestic energy boom. The oil and gas industry say it's safe, but environmental groups fear it contaminates groundwater.
"I think the question needs to be asked" about whether the White House is pushing aside investigations," said Amy Mall, senior policy analyst with the Natural Resources Defense Council.
However, some Republicans say the inspector general report didn't go far enough, as it didn't assess the conduct of EPA staff who handled the Parker County case.