Potential of shale gas continues to drive exploration
29-12-2013
Potential of shale gas continues to drive exploration
By Sylvia Pfeifer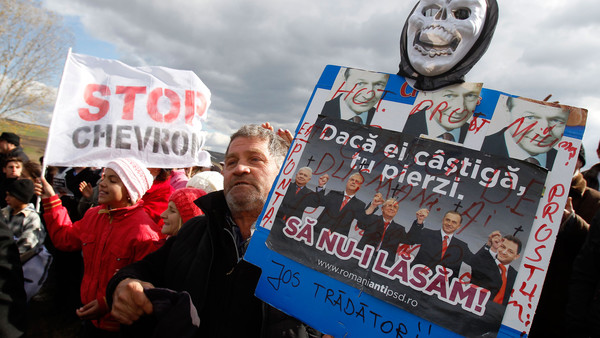 A man holds a banner during a protest against plans by Chevron to search for shale gas in Pungesti, 340 km (211 miles) northeast of Bucharest October 19, 2013
©Reuters
Sign of the times: protests led Chevron to suspend operations in Pungesti, Romania
Little has disturbed the way of life in Pungesti in eastern Romania for decades. The remote town lies more than 300km from Bucharest, the capital, in one of Europe's poorest regions, with the locals largely dependent on subsistence farming. Yet all this could be about to change.
The rocks beneath Pungesti are estimated to hold lucrative reserves of shale gas – a promise that has brought big business to town.
This includes Chevron, one of the world's largest energy groups, which has secured a government licence to explore for shale gas in the region.
At stake is much more than just the future of Pungesti. The prospect of a large source of domestic energy is one that many governments in eastern and central Europe can only dream of today.
A discovery of large, commercial quantities of shale gas would significantly reduce their dependence on expensive imports, notably from Russia, potentially reshaping geopolitics in the region.
Yet the promise of cheaper energy faces opposition from activists and many local communities who fear the process of unlocking the gas from deep underground will harm the environment and their way of life.
In some countries a stand-off has emerged between the opponents who claim the process will do anything from polluting drinking water to triggering earthquakes, and an energy industry that insists it is safe if done properly.
Pungesti residents hold similar fears. In October, angry confrontations took place between farmers and activists – backed by priests from the Orthodox church – and the police.
The locals blocked trucks from entering the Chevron concession. The company suspended its work, despite having all the necessary permits.
Chevron insists it plans only to undertake exploratory drilling using conventional technologies, rather than hydraulic fracturing, or fracking – the process whereby a mixture of chemicals, sand and water are blasted deep into the rock beneath the earth to release the gas.
It still hopes to convince residents that shale exploration is safe and will continue to hold information sessions. The potential prize, it argues, should not be overlooked.
"Natural gas from shale presents an opportunity to strengthen security, drive economic growth in Romania and support the development of local communities," Chevron says.
Across central and eastern Europe, western oil majors as well as smaller independent companies are exploring for shale gas, driven by the promise of large potential reserves and hopes of replicating the success that many have had extracting shale gas in the US.
A drilling rig exploring for shale gas of oil company Chevron on June 11, 2013 in a village of Ksiezomierz in south-eastern Poland
©AFP
Greenfield site: a test well in southern Poland, where the search for shale gas is now underway
Estimates by the US Energy Information Administration (EIA) in 2011 that Poland had potential reserves of 5.3tn cubic metres, the biggest in Europe, sparked hopes it could be set on the same path as oil-rich Norway.
The EIA has revised its estimates down to 4.2tcm – but this is still above even the most conservative estimate put forward by the Polish Geological Institute (PGI) suggesting reserves of between 346bn-768bn cubic metres.
Onshore reserves alone are estimated at about 230bcm. Even this number would be enough to supply Poland with gas for decades to come.
Countries have responded in different ways. Some, notably Bulgaria, have passed laws banning fracking, while Romania this year lifted a moratorium.
For other countries, notably Poland, Ukraine and Lithuania, indigenous shale gas is a prize worth pursuing. Energy security, less dependence on expensive Russian imports and jobs are key motivators. Research by KPMG, the consultancy, points out that on average almost 70 per cent of regional gas consumption in central and eastern Europe was covered by imports in 2010. Of that, more than 90 per cent came from Russia.
And while Chevron may have been temporarily halted in Romania, it is making progress elsewhere. Last month it signed a deal worth up to $10bn with Ukraine to explore for shale gas in the 6,300 sq km Oleska field in the west of the country. Kiev has a similar agreement with Royal Dutch Shell covering the 8,000 sq km Yuzivska field.
The Chevron and Shell deals are seen as vital for Ukraine if it is to reduce its dependency on imports. The government has said the two developments together could produce up to 21bcm per year, roughly doubling domestic production in the next 10-15 years. The country's gas consumption is about 50bcm per annum.
"A lot of governments in eastern Europe are concerned about their countries' dependency on Russian imports of gas," says Laszlo Varro, head of the gas, coal and power division at the International Energy Agency.
"But there is also the possibility for job creation. The political support [for shale] comes from the potential to improve energy security and help generate economic development."
Yet the dreams of replicating the shale boom that transformed North America's energy landscape have been tempered. Local opposition has flared up in Bulgaria as well as in Romania.
And the happy combination of circumstances that has helped to fuel America's shale boom do not exist in central and eastern Europe: existing oil and gas infrastructure; accurate data about the geology thanks to decades of conventional drilling; and accommodating regulation that allowed landowners to be well compensated for the use of their lands.
Poland's first exploration well was drilled in June 2010 and to date about 51 wells have been completed, though none has so far produced gas at a commercial rate. ExxonMobil pulled out of Poland last year after drilling two wells, while Talisman and Marathon Oil have also withdrawn from exploration, even if most of the licences have been taken on by others.
Pawel Poprawa, a geologist from the Energy Studies Institute who provided the PGI estimate of the country's reserves, says more wells need to be drilled. So far only four horizontal wells have undergone multi-stage hydraulic fracturing. "We are at the beginning of the learning curve," he says.
In Poland, draft regulations proposed by the environment ministry that will create a state-owned company to take stakes in all future production concessions have raised fears among foreign investors.
"Most companies think these regulations make their business more difficult," says Poprawa, adding that they are still in draft form.
Menno Koch, a consultant at Lambert Energy, a London-based advisory company, points out that the 51 wells drilled in Poland compare with the 20,000-odd wells put down in the Barnett shale area in Texas – which is a third of the size of Poland's prospective shale gas area. "We really have no idea how large Poland's recoverable shale reserve base is," he says.
The lack of drilling also gives little indication of cost. Initial estimates suggested that it costs $15m to drill a single well in the region – two to three times as much as in the US. Others argue, however, that the geological challenges are no different from elsewhere.
"Every shale play is different," says Oisín Fanning, executive chairman at San Leon Energy, which is in the process of fracking two wells in Poland.
"If someone gets a decent flow rate, gets the recipe right, you can make the same cake every day and it becomes a mining exercise. The cost structure drops dramatically," he says.
Other optimists include Dennis McKee, chief executive and president of United Oilfield Services, the company he set up in Poland in 2011 to address the need for equipment and personnel to do unconventional development in Europe. The biggest challenge, McKee says, has been the "redesign of all the equipment to meet EU certifications".
Poland "is like working in one large village – there is not a lot of space", he adds. Yet McKee remains optimistic, noting that "there is now a desire by the [energy companies] to determine whether we can get commercial gas".
Varro of the IEA also points out that Europe's wells do not need to be as cost-competitive as those in North America. The key benchmark is the price of imported gas. "Gas imports to Europe are three times more expensive than North American gas prices. So you don't need to compete with the US but with Russian gas import prices," he says.
However, the development of shale gas in central and eastern Europe is about much more than just trying to reduce dependency on one supplier, say some market watchers. In the event that large quantities of economic, unconventional gas are developed, it would transform the supply situation for eastern Europe.
"Gas from Russia would become just one option, others being imports of liquefied natural gas, indigenous supplies and interconnections between EU members," says Riccardo Puliti, managing director of energy and natural resources at the European Bank for Reconstruction and Development.
Varro's assessment is more restrained. "Even in the most positive scenario, Europe remains a large-scale gas importer and will have higher gas prices as a result," he says.
"But this does not mean governments should not give [shale gas] a go."
-------------------------------------------
Moscow considers plan B
The transformation of North America's energy landscape by the shale boom has prompted Russia to consider the potential of its own resources of shale oil and gas.
The US Energy Information Administration this year estimated Russia could hold 75bn barrels of shale oil, as well as 8tcm of shale gas.
The US, by comparison, was estimated to hold 58bn barrels of recoverable shale oil and 18.9tcm of shale gas reserves.
US crude oil output has surged 50 per cent since 2010 as companies have applied hydraulic fracturing and horizontal drilling to extract not just gas but also oil from shale rock formations.
The lion's share of Russia's shale oil reserves lie in the Bazhenov, a geological formation in Siberia. One estimate alone suggests its rocks could contain as much as 100bn barrels of recoverable oil, making it five-times larger than North Dakota's Bakken shale, which has been at the heart of the US oil boom.
For the Kremlin, the key aim is to maintain the country's oil output. With its conventional reserves being depleted, shale could be the answer.
Most of Russia's energy companies, including Rosneft, Gazprom Neft and Lukoil, are already exploring the area.
Last year Rosneft and ExxonMobil of the US formed a joint venture to assess the commercial potential of the former's licence blocks in the Bazhenov.
Unlike in Europe, much of the infrastructure needed to drill is already in place thanks to oil from conventional wells.
Environmental opposition to fracking is also not expected to be an issue in Russia as it is in Europe. Many in Siberia rely on the oil industry for their livelihoods.
But for real progress to be made, many experts argue that investment in infrastructure in particular would need to be scaled up considerably. More roads and railways are needed to bring in rigs and other necessary equipment.

Copyright The Financial Times Limited 2013. You may share using our article tools.
Please don't cut articles from FT.com and redistribute by email or post to the web.