Saudi Arabia 'confident' oil prices will improve
21-12-2014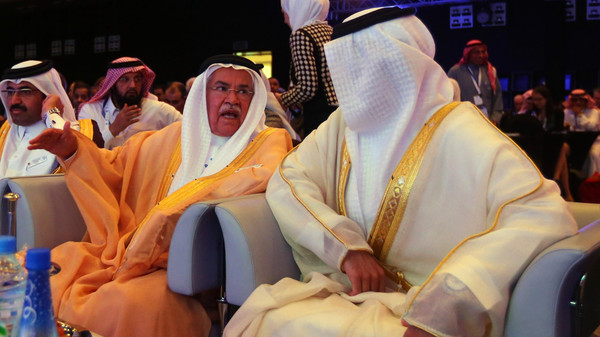 Saudi Oil Minister Ali al-Naimi (C) speaks with United Arab Emirates Energy Minister Suhail bin Mohamed al-Mazroui (R) during the opening session of the 10th Arab Energy Conference in Abu Dhabi, on December 21, 2014. (Reuters)
Staff writer, Al Arabiya News

While Saudi Arabia's oil minister blamed on Sunday non-cooperation by producers outside of the Organization of the Petroleum Exporting Countries (OPEC) and the actions of speculators for lower oil prices, he expressed confidence that the market would improve.
"I am confident the oil market will improve," the minister, Ali al-Naimi, said in a speech at Abu Dhabi's energy forum.
Naimi also denied politics played a role in the kingdom's oil policy and said the price decline would not have "a noticeable and big" impact on the economies of Saudi Arabia or other Arab countries.
"The kingdom of Saudi Arabia and other countries sought to bring back balance to the market, but the lack of cooperation from other producers outside OPEC and the spread of misleading information and speculation led to the continuation of the drop in prices," he said.
He added: "The talk about conspiracy by Saudi Arabia for political motives ... is baseless and shows lack of understanding."
"The (oil) policy of the kingdom is based on a strict economic basis, nothing more, nothing less."
The UAE, meanwhile, deemed "irresponsible" non-OPEC members as being behind the price plunge.
"One of the main causes is irresponsible production by some producers from outside the organization, some of whom are newcomers," Suhail al-Mazrouei told the forum.
Mazrouei said the sharp drop in prices will impose a "major economic burden" on oil producing countries, insisting nonetheless that OPEC's decision last month to maintain output levels was "correct."
"OPEC's decision, which aims to provide the market with time to rebalance, is correct, strategic and useful to the global economy," he said at the forum organized by the Organization of Arab Petroleum Exporting Countries.
The OPEC decision will "lead to stability in oil prices," he said.
However, Iraq's oil minister Adel Abdel Mahdi said that OPEC needs to wait to see if they have made the right decision and that there was no need for the organization to have an emergency meeting.
He added that he saw prices stabilizing at around current levels of about $60 a barrel.
World prices have fallen almost 50 percent since June, mainly due to a supply glut, the weak global economy and a strong U.S. dollar.

(With Reuters and AFP)