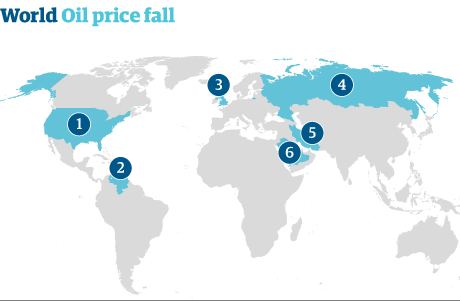 John Paul Getty's formula for success was to rise early, work hard and strike oil. But a dependence on the black stuff can create its own problems, especially when the price tumbles as it has over the last few months.
The price of a barrel of Brent crude has almost halved from $115 in the summer to stabilise around $60 last week. Most forecasters expect the cost of oil to remain low well into next year.
Getty became a billionaire oil magnate after four years of speculative drilling in the Saudi Arabian desert proved to be worth the risk. Now the house of Saud appears willing to wait almost as long for its own victory. The plan, agreed with Opec, maintains output, ignoring demands for cuts to push the price back up again.
As the dominant Opec member, and keen to protect its own market share, the Saudis have forced the others to take the long view with a strategy that aims to put out of business all those producers that have flooded the market in the last few years and dragged the price lower.
US fracking firms, where production costs are high, should be the first to feel the financial pain. But there will be collateral damage to others too. Iran may find itself running out of cash. And then there is Russia, which is heading for a deep recession next year as gas prices follow oil to lows not seen in 10 years. There will be winners too. The UK, now a net importer of oil, has already benefited by an estimated £3m-a-day reduction in fuel costs. Businesses will gain from cheaper energy, and cheaper petrol in effect puts more cash in consumers' pockets.
Taken in the round, global GDP could rise by 0.2% to 0.5% as the wheels of trade are lubricated a little more.