Oil Prices Fall After Early Gains
22-12-2014
Analysts Predict Volatility Will Continue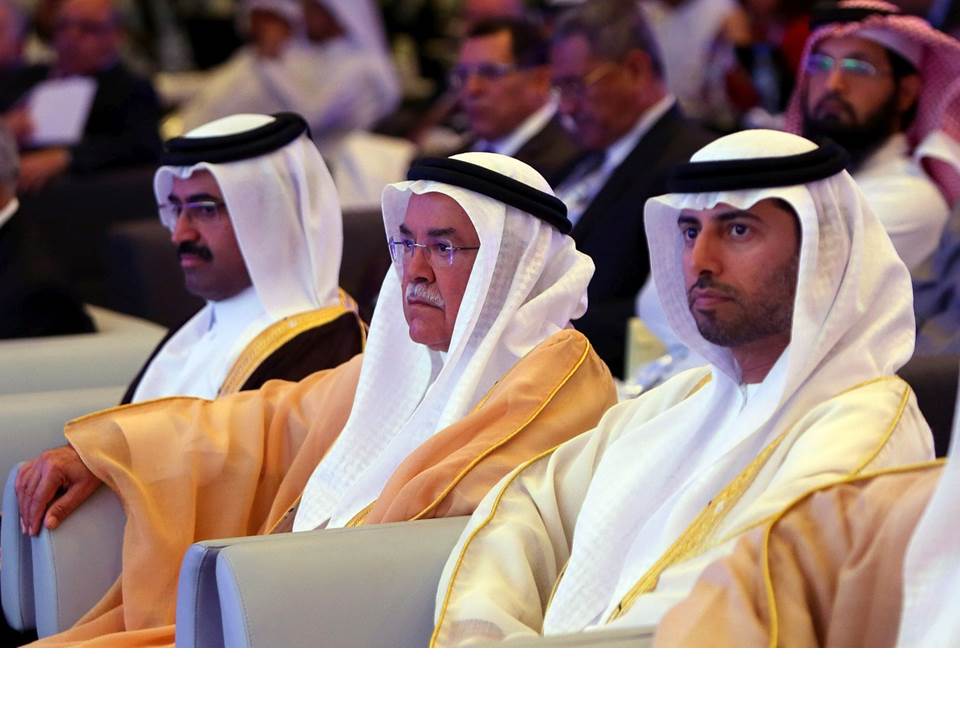 Qatar Oil Minister Mohammed bin Saleh Al-Sada, left, Saudi Oil Minister Ali al-Naimi, and United Arab Emirates Energy Minister Suhail bin Mohamed al-Mazroui, right, attend the opening session of the 10th Arab Energy Conference in Abu Dhabi, on Dec. 21.
By Georgi Kantchev

Oil prices fell on Monday in choppy trading as a rebound that started late last week failed to gain traction and analysts predicted that volatility will continue.
The price of crude has nearly halved since a peak in June as fears about a mismatch between ample supply and tepid demand have engulfed the market. The fall was further exacerbated by a decision of the Organization of the Petroleum Exporting Countries last month to keep its output levels unchanged.
On Sunday, Persian Gulf oil officials defended that decision, blaming non-OPEC producers for the current oil market glut.
Front-month WTI futures fell as much as 1.3% to $56.39 a barrel on The New York Mercantile Exchange after rallying earlier in the session by more than a percentage point. Brent crude for February delivery touched a low of $61 a barrel on London's ICE Futures exchange, after flirting with $63 in morning trade.
"The market doesn't have the momentum to sustain gains right now," said Kash Kamal, research analyst at Sucden Financial. According to Mr. Kamal, the comments by Gulf officials provided some excuse for traders to enter long positions but they quickly realized that fundamentals haven't changed. "The market is still under pressure, still oversupplied. It's business as usual."
Speaking at an energy conference in Abu Dhabi on Sunday, Saudi Arabia's oil minister, Ali al-Naimi, blamed a lack of coordination among non-OPEC producers, along with speculators and misleading information, for the price slump'.

According to Mr. Naimi, who is OPEC's secretary-general and its most influential voice, the current oil market situation is temporary and prices will rebound.
Mr. Naimi's comments were echoed Monday by Iraq's oil minister who said that OPEC remains united in its decision not to rein in production but to let the market decide the oil price. Oil prices have plummeted since OPEC decided on Nov. 27 to keep its production ceiling unchanged.
"With Saudi Arabia pledging its commitment to seeing stability in oil prices, many took this as a catalyst for a recovery," Stan Shamu at IG wrote in a note. "However, the problems oil is facing certainly seem deeper than that and I suspect we haven't put the recent volatility behind us just yet."
Volatility in the oil market spiked in December with the OVX index rising to its highest level since the inception of the series in 2012, the National Australia Bank said in a note. The OVX index measures the market's expectation of 30-day volatility of WTI crude prices.
Last week provided a practical primer on volatility with a pattern emerging in which early gains have been whittled away over the course of the day. On Thursday, crude had rallied by as much as 3% in early trade only to see the gains pared as negative sentiment overwhelmed the market.
Despite a rally on Friday, the price WTI crude fell 2.23% for the week, the fourth consecutive week of declines. During those four weeks WTI lost 26.13%--the largest percentage decline for that time period since the week ended Dec. 26, 2008.
The early gains on Monday appeared to suffer the same fate, with an early rally sputtering by midday in Europe.
"After the bears dug themselves through various psychological support levels over recent weeks, there finally appears to be some signs a floor might have been located in the oil markets," Jameel Ahmad, chief market analyst at FXTM, wrote in a note. "While the oil markets locating a floor would breathe a sigh of relief by those impacted by lower oil prices, this could also be a consolidation period before the next potential leg lower."
Nymex reformulated gasoline blendstock for January—the benchmark gasoline contract—was little changed at $1.56 a gallon, while ICE gas oil for January changed hands at $555.00 a metric ton, up $6.25 from Friday's settlement.
—Sarah Kent and Summer Said contributed to this article

Write to Georgi Kantchev at georgi.kantchev@wsj.com